Shakira look emotional on Friday night as she performs her hit track No.1 TQG for the first time
The hitmaker, 46, took to the stage to give a high-energy performance of the new release, which has multiple references to her ex Gerard Pique, who she split from in June after 11 years together.
Making quite the revenge comeback, the age-defying star donned a pair of leather chaps while showing off her figure in a black mesh bodysuit.
She appeared on the show with Bizarrap, chatting to host Jimmy Fallon on their joint new release, and referencing her recent split.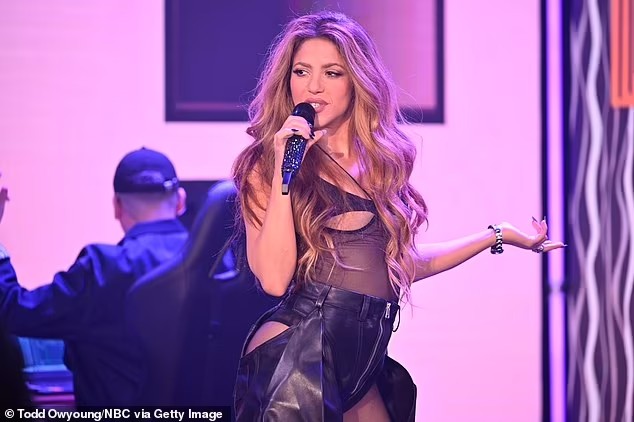 Talking on the show, she explained that the song has been 'a healthy way to channel my emotions', while adding that she had to 'put up with so much cr*p'.
Shakira took to the stage to give her first ever live performance of the song, which soared the charts and hit No. 1 on the Billboard Global 200.
Looking sensational, her mesh bodysuit featured a cut-out underboob detail, while a silver zip detail adorned the centre of her chap trousers.
She left her lengthy caramel tresses to fall freely in a loose curl while opting for a bright and radiant palette of makeup.
While Argentinian producer Bizarrap joined her, sporting a dark-wash denim shirt with a white T-shirt and black baseball cap.
It was one of Shakira's two ensembles for the TV appearance as she donned a sparkling black mini dress to sit down and chat with host Jimmy.
The new hit has been dubbed a 'diss' track to Shakira's ex Gerard, who she shares two children with and split from after he was allegedly unfaithful during the relationship.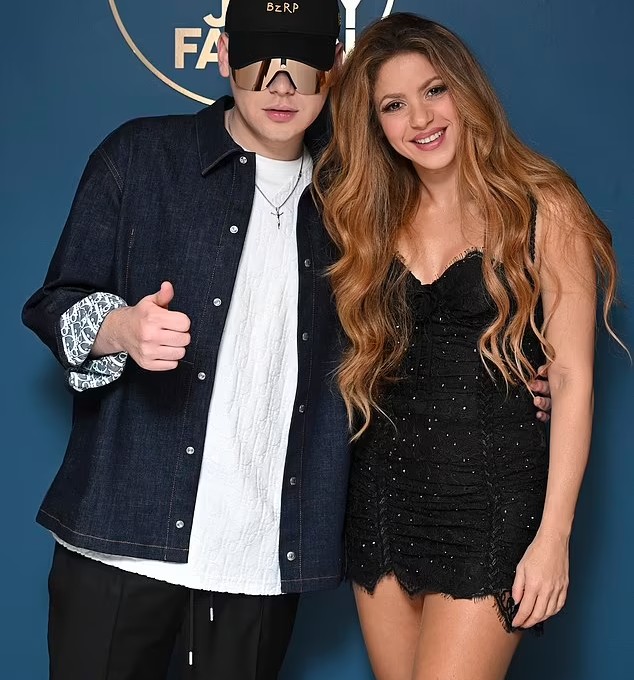 Referencing the break-up for the first time on TV, she shared: 'It's been unbelievable to feel the reaction from so many people. I think that people really connect with music when it's real and it's genuine, it comes from a real place. The thing with this song is that it has become like an anthem for so many women out there.
'I've had a very rough year after my seperation and writing this song has been so important to me. It's been a healthy way to channel my emotions.
She concluded: 'I feel that after we put out this song, i not only felt like I had fans but a sisterhood of women who have been through the same things, who think the way I think, feel the way I feel and had to put up with so much cr**, the way I had to.'
Shakira allegedly realised her ex-boyfriend had been unfaithful when she discovered a jar of strawberry jam had been eaten while she was away
She then went onto reference the strawberry jam in a music video for her single Te Felicito in April, which featured a clip of a head of her collaborator Rauw Alejandro inside an open fridge.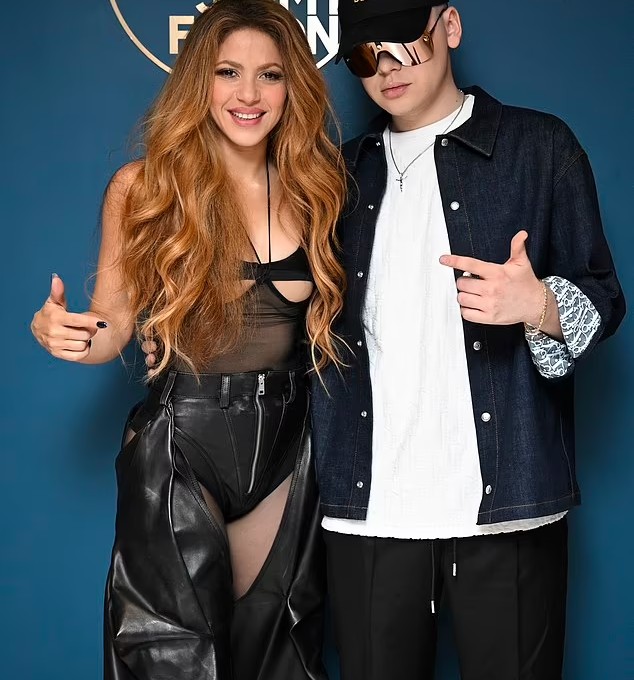 According to ShowNews Today, Shakira knew that Gerard and their two kids didn't like strawberry jam, and so she suspected that someone else had been staying at their home when she found the jar.
Shakira returned home from a period of travelling when she noticed the jam in her fridge had been eaten, and she knew the rest of her family disliked it.
The singer appeared to allude to this in the music video for her single Te Felicito, where she can be seen opening a fridge to be greeted by Rauw's head.
She also reportedly set up a terrifying life-size witch doll on the balcony of her Spanish home, which reportedly looks over her former mother in law's pad.
Residents in the area have reported hearing Shakira 'blasting the song at full volume' from her home, which includes lyrics aimed at his new girlfriend.
Shakira, makes it crystal clear she is referring to the 23-year-old her former partner is rumored to have started dating last year before they split, saying: 'I'm worth two 22's. You traded a Ferrari for a Twingo. You traded a Rolex for a Casio.'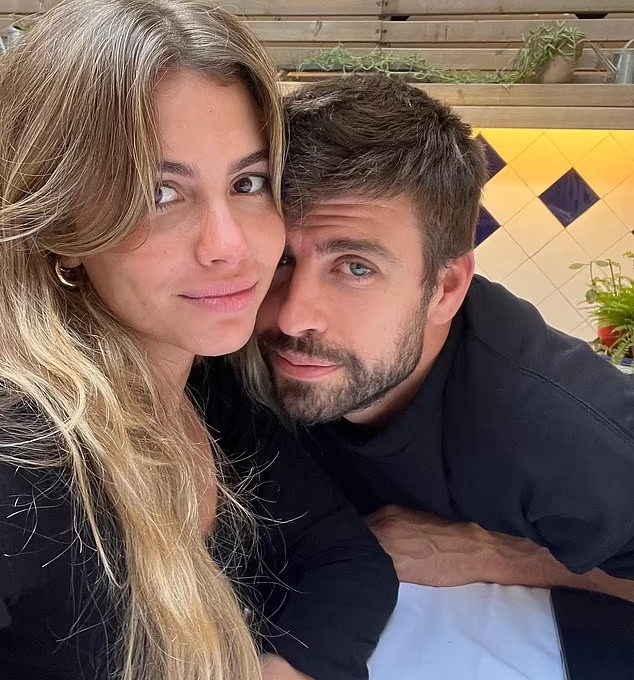 While Shakira's new song features some barbed lyrics aimed at Gerard and his new love Clara, she also includes a few choice words for her ex-mother-in-law.
In the song, she sings the line: 'You left my mother-in-law as my neighbor, with the press at the door and the debt in the Treasury...'
It has been reported that the relationship between Shakira and Montserrat Bernabéu [Gerard's mother] has turned sour after she readily welcomed her son's new romance with Clara Chia Marti.
Last month, in an on-air chat with Spanish streamer Ibai Llanos, Gerard confessed that Clara chooses his clothes for him when they go shopping together, comparing himself to a 'puppet.'
'The truth is I go with my girlfriend to the shops and she buys them for me. I'm a puppet,' he said when asked if he still kept up with fashion trends since he retired from playing professional football.
Pique's lawyer recently praised the retired footballer and singer-songwriter ex Shakira for showing 'great intelligence' in the way they resolved their split.
The pair spared their two kids a damaging legal battle by confirming last November they had penned a child custody agreement after protected negotiations and signing the accord at a Barcelona court the following month.
Veteran family lawyer Ramon Tamborero, who represented the ex-footballer in his negotiations with the Colombian artist, insisted: 'They have made a great effort for the good of their children, making sure they weren't the protagonists. Both of them have shown great intelligence.'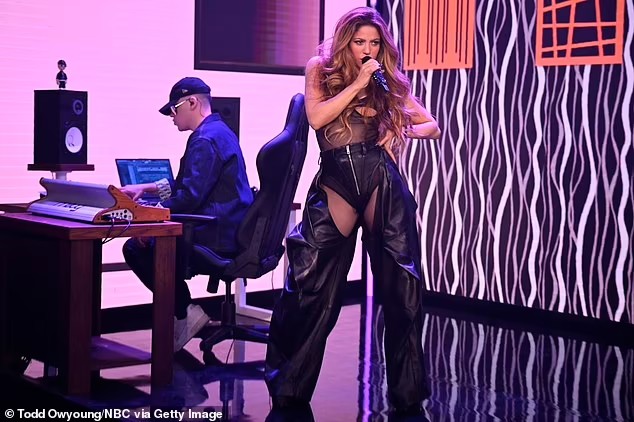 In a surprise interview with Catalan daily La Vanguardia, the 74-year-old admitted of the talks that resulted in the agreement: 'It required seven months of negotiations.
'The agreement was complex and required preparatory meetings. And the decisive reunion before the signing lasted 13 hours.'
Asked about the purpose of so much dialogue, he made it clear he believed an agreement worked out between two former partners was a better option than a custody trial and a judge's ruling by replying: 'A bad agreement is better than a good sentence.
'I always tell my clients: once you've signed your divorce agreement I advise you to put it in a draw and dialogue.'
It came just weeks after Gerard and Clara made their relationship Instagram official, with the sportsman cosying up to his new love, 23, in a happy selfie - which quickly racked up one million likes.