Influencer turns up for court in skimpy outfit as she faces jail over 'obscene' content
An OnlyFans model turned up to court sporting a raunchy outfit as she answered the charge that she broke Turkey's strict obscenity laws.
Merve Taskin, 23, faces three years in prison and has been accused of sharing images from her OnlyFans with her 576,000 Instagram followers.
It's not the first time the influencer has been pulled up, after being given a five-month suspended jail sentence for posting photos deemed obscene in December 2021.
Now she is facing jail again with her second obscenity trial in just a few months.
But at a hearing for her new case on Thursday (January 12) Taskin's eye-catching outfit certainly turned heads.
The model was wearing a crotch-skimming mini dress teamed with knee-high leather high-heeled boots as she arrived at the Istanbul court with her lawyer Feyza Altun.
A shoulderless feathered crop top that left little to the imagination completed her look.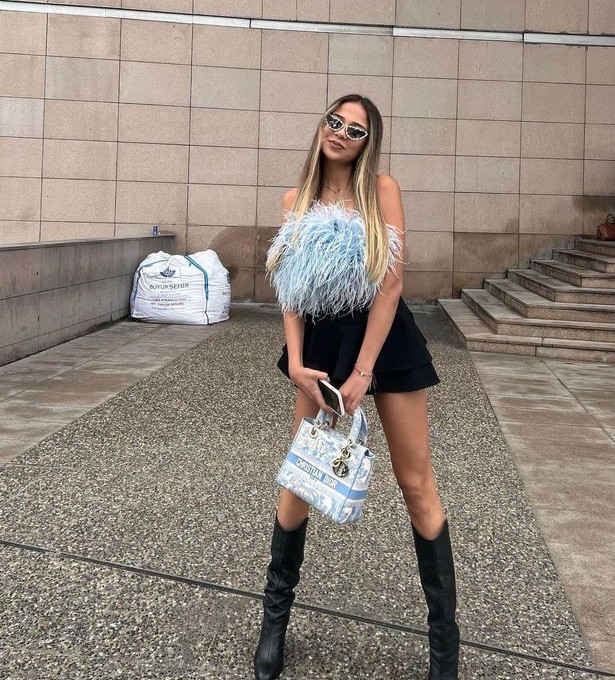 Taskin appeared unapologetic when posting the photos on social media with the caption: "How do you like my court outfit?"
In her previous case, Taskin had been arrested after posting photos which caused outrage from a trip to Amsterdam.
One picture showed her sitting on a giant penis at the Dutch city's Sex Museum. Another showed her seemingly naked behind a glass door.
Taskin was initially sentenced to six months in prison but it was reduced to five months due to good conduct and then later suspended.
According to Turkish law, people who publish material it deems as obscene can receive a prison sentence of up to three years.
Last year, Taskin said: "A court decision was taken in the name of obscenity because of the normal OnlyFans photos I used and shared on my Instagram account.
"Congrats to those who reacted, you've reached your goal."
Taskin's legal team will now argue that the snaps shared on Instagram were not sold and not obscene.
She added: "I did not sell any photos or videos on this site.
"In addition, I do not think that the photos that are the subject of the case and that are claimed to be obscene are obscene.
"I think such a complaint was made in order to manipulate me. I think I am in a very difficult situation.
"Only the audience I allowed could see the pictures or videos I shared on the site in question. It was not accessible to everyone."