Ana de Armas turns heads in a plunging embroidered gown as she attends the 2023 SAG Awards in Los Angeles
Ana de Armas made jaws dropp as she made a glamorous arrival donning a plunging embroidered dress as she attended the 29th Annual SAG Awards in Los Angeles on Sunday.
The Knives Out star, 34, flaunted her stunning physique as she joined other talented stars on the red carpet ahead of the special ceremony.
The beauty received a SAG nomination for Outstanding Performance by a Female Actor in a Leading Role for her performance as Marilyn Monroe in Netflix's fictional biopic, Blonde, which received mixed reviews from critics and audiences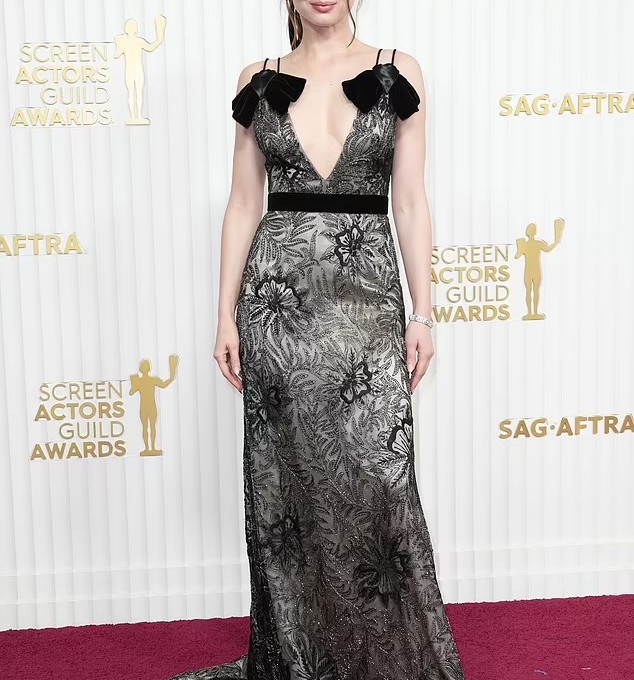 The actress, who recently opened up about tackling the role to Vanity Fair, has also garnered an Oscar nod for Best Actress.
The annual event welcomes top Hollywood stars as it recognizes the best in both television and film, and also honored acting legend Sally Field with the SAG Life Achievement Award for her work spanning over five decades.
On the red carpet, Ana wowed in a figure-hugging dress that was made of a nude-colored fabric which was then overlaid with a darker, embroidered pattern that sparkled under the bright lights.
The neckline contained a deep, V-neck cut that fell down towards her midriff, while her upper waist was accentuated with a strip of black fabric.
The gown was held up with two thin straps on each shoulder, while large, black velvet bows were added just underneath for a stylish flare.
The hem of the ensemble flowed down past her ankles, concealing the shoes she had donned to pair with the dress, and pooled into a short train behind her.
The talented star, who was born in Cuba, parted her voluminous locks in the middle and swept her hair back into a ponytail, allowing a few, curly strands to border the sides of her face.
She kept her accessories minimalistic for the evening in order to allow the gown to be the main focal point, and slipped on a rhinestone-covered bracelet on her left wrist.
Ana also added a pair of small, dangly earrings for an elegant touch to her eye-catching look.
Her makeup was classically done for the event, and comprised of a layer of black mascara along with a bronze, smoky shadow around her eyes.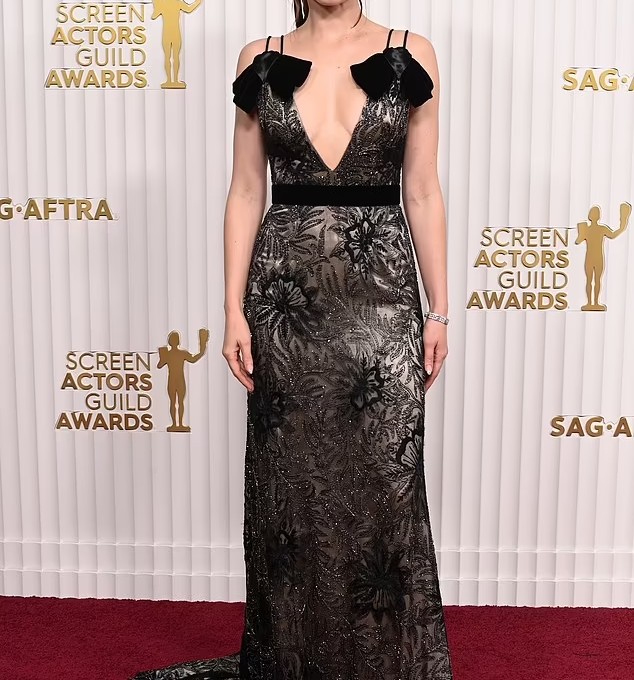 A light, peach-colored blush was added onto her cheekbones, while a nude-colored satin tint was worn on her lips.
Ana flashed a cheerful smile as she paused for a quick photo session before entering the Fairmont Century Plaza where the award show was held.
While on the red carpet, the SAG-nominated star opened up about her leading performance in Blonde when talking to Extra.
While discussing saying goodbye to the role, the beauty expressed, 'It wasn't a matter of getting out of character. I thought it was more of, I missed her.'
She further added, 'I missed it, like the whole process of it. As difficult as it was and very emotional, it was also a very beautiful process. I missed that environment and being so creative.'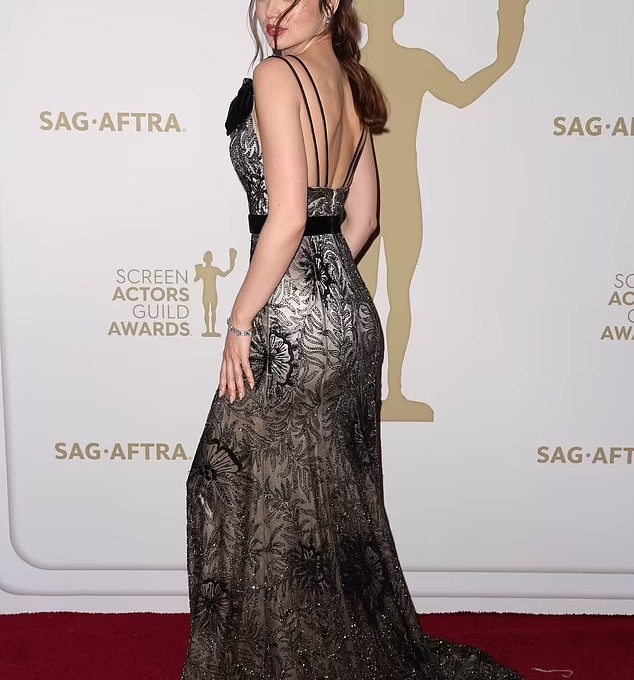 During a recent interview with Vanity Fair published earlier this month, de Armas also talked about 'relating' to Monroe.
'If you put Marilyn Monroe 'the movie star' aside, she's just an actress trying to navigate life and this system, which is so hard to navigate for anybody.'
Ana further explained, 'I truly thought it was going to do justice to a more dimensional human being, because I wouldn't want to be remembered just for one thing. I am more than just an actress on the cover of a magazine.'